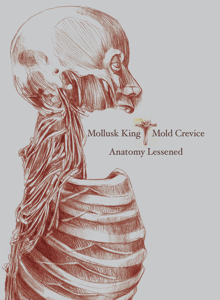 £

5.00
UK / European customers should order here.
American / Canadian / etc customers should order from http://dissemination.bigcartel.com/.
Double A-side cassette single from long running transatlantic co-conspirators Mollusk King (UK) & Mold Crevice (USA). This split release marks the debut of non-compilation released material from both names.
Mollusk King continues its metamorphosis from Content Nullity with the most immediate and memorable track in its arsenal to date. Highly personal subject matter coupled with surrealism gives birth to pure atmospheric nightmare. Militant drum machine rhythms, synthesizers and bass guitar are combined for a sound that seamlessly mixes unique power electronics with an old-school approach to create state of the art industrial music circa 2015.
Long running US Power Electronics outfit Mold Crevice returns with its first released output in nearly 5 years. Sharply recorded, carefully edited modular synthesizer, analog drums, field recordings, and sheet metal percussion provide the backbone for an unnerving, confrontational first hand documentation of subsidized drug pushers and child sex traffickers in an American ghetto. Years don't tame.
Artwork by Gentian Osman. Mastered by Zach Adams. A final, posthumous release from Drifter Din Recordings. "It's in the past - like many things."
Limited to an edition of 100 copies. Red foil chrome cassette with white body prints comes in a shrink wrapped clear cassette case with professionally printed 3 panel J-card.
Listen: https://soundcloud.com/molluskking/you-are-the-rubbing-together-of-a-flys-legs