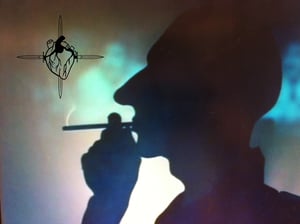 £

15.00
At the time of writing this is SOLD OUT. A copy or two may become available later on but for the meantime orders are now closed.
Now shipping! If you have not chosen your collage yet, check your e-mails and send me a reply.
This will be your only chance to own this highly personalised and exclusive item.
This is a pre-order. This release is currently in the manufacturing process and aims to begin shipping late March / early April 2014. Upon ordering you will be added to a private mailinglist which will update you on the progress of the title. Each customer will be able to choose which collage cover they desire to own, in chronological order of who ordered first.
A special edition box which collects the three one minute tracks from the SignalVoid memory stick compilation and banishes them to burn for totality on an infinite loop cassette. A new companion piece is included on a separate business card disc. Elusive anguish. Paranoid power electronics. The skies went grey. Close the door. Silence the poison. 1996.
Limited to a hand-numbered edition of 20 copies. Cassette with hand-painted label comes in a special large double cassette case with moulded holder, professionally printed and personalised J-card adorned with unique hand-made collage and name of customer, signed insert, cigarette cards issued in 1939 and silkscreened patch. Disc with hand-painted label comes in a business card jewel case attached to the cassette case with velcro. 2.25 x 2.25" ziplock bag containing a vintage key and smashed pieces of power adapter is attached to the business card jewel case with velcro.
The price reflects the cost of materials and man-hours gone into making this individually unique and personal release a reality.
Sample: http://soundcloud.com/scrapetapes/content-nullity-closed-door