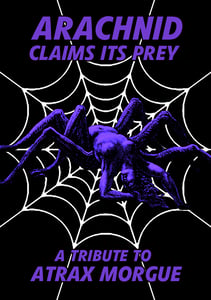 £

6.00 - On Sale
This is no longer a pre-order. This release is now in stock. All pre-orders are now being posted (16/06/12).
"Too close for retreat, he gives his fate to a more powerful urge. With a sexual organ extending from his palp, he unites in mindless ecstasy. To the male black widow, the most exciting part of sex is to escape. Puncturing his head, she sucks his body dry. Another sacrifice to the continuation of the species."
Marco Corbelli AKA Atrax Morgue operated with a sharp and simple style, producing tape after tape of clear-cut death industrial paying homage to his various obsessions. The combination of sickly sine waves and a leering vocal haze resonated with a certain starkness that feels unmatched, showing that often less is more. A master of ambiguous slithering noise, he was one of the pioneering death industrial artists of the early 90s up until his suicide. The taboo subjects that Corbelli explored may have been explicitly perverse to most, but under the core he knew no better way to put them right in your face to judge for yourself.
Whether loved or loathed, no one can deny Atrax Morgue's presence and lasting influence on underground industrial music. He was in search of death, and he found her. Five years after his suicide, 20 international artists pay tribute to one of the most interesting death industrial artists from yesteryears, with their own takes on his classic work. Suffocating black plastic bag packaging with eight-legged art brut collages.
6th May, 2007. The game is closed_
Featuring:
ANTIchildLEAGUE
Satanismo Calibro 9
Concrete Mascara
Regosphere
Dry Greed
The Vomit Arsonist
Kave
Deadpulse
Abismo
Panther Modern
S.T.A.B. Electronics
Idle Wounds
Hope In Dystopia
Bagman
Deterge
Solarcircles
Violent Pink
Verdant
Theologian
Content Nullity
Limited to a hand-numbered edition of 250 copies. Labeled black and white chrome cassettes come in a a 4" x 7" black resealable bag with cover and 4 inserts.